Exchange Magazine Online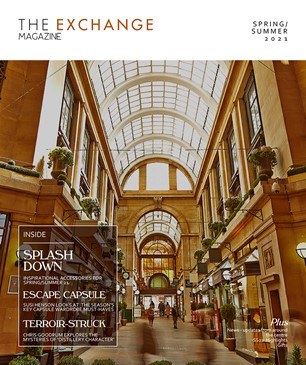 Latest Edition Out Now
The latest edition of The Exchange Magazine is out now, and available to read exclusively online here.
Like most in retail, The Exchange and its stores endured a cumulative seven months of closure over the last year. But through the efforts and creative thinking of store owners and staff, The Exchange has opened its doors again to begin its 92nd year of unbroken retailing in Nottingham. This would not have been possible without your support, and we look forward to welcoming you back to the centre soon.
As an entree to the new season, in this issue of The Exchange Magazine, we look at the highlights from some of the centre's core stores, including Castle Fine Art, Dr Martens and Bubble Vintage. Designers from Harvey Jones Kitchens offer insights into planning your new kitchen, and Sofa.com get into Cool Cocooning.
With holiday booking now in full flow, our regular style commentator, Susi Henson, looks at capsule wardrobe essentials. Head to Page 8 to ensure your Escape Capsule is fully loaded.
This edition's photoshoot also makes a splash, as we highlight some of the key accessories for the season. Turn to Page 12 for a fashion accessory Splash Down.
Finally, in his latest article, malt-meister Chris Goodrum goes in search of the terroir- the elusive 'distillery character' that defines individual whiskies. Head for Page 24 to find out more… if you dare!